Summer Study Abroad
Summer study abroad courses are designed for undergraduate and graduate students, as well as mature learners with academic backgrounds. These courses go beyond the classroom. You'll join students from more than 90 countries around the world and enjoy a summer schedule packed with enriching seminars, fun activities, and local trips designed to help you explore Israel's geographic and cultural landscape.
We have two summer sessions to suit your needs: a four-week July session and a two-week August session. If you want to get the most of your summer, you can combine courses from both sessions. You might also want to check out our language programs offered in June. All summer courses at HebrewU's RIS are accredited and taught in English.
Please Check the July summer schedule to see which summer courses can be combined together in July. The schedule can be found at the bottom of each individual July course page.
The application deadline varies amongst summer courses. Please refer to the specific page of each summer course for additional details.
Hebrew University Quick Facts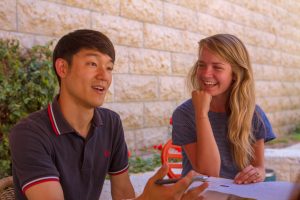 We offer courses and programs in a variety of fields, with a focus on social and political sciences, Israel and the Middle East, languages, religion, fine and performing arts, business and legal studies, and STEM.
Live on-campus with international and Israeli students – including a staff of Israeli students who help you navigate life in Jerusalem. This vibrant city will be your second classroom, full of trips and tours.
Apply online to begin your adventure in Jerusalem at the highest-ranked university in Israel.