Advanced graduate and doctoral students who wish to pursue research at the Hebrew University are invited to apply to the Visiting Research Fellow program. Students in this program enjoy privileges such as access to HebrewU libraries, archives, and online databases; participation in research projects at HebrewU labs; on-campus housing and health insurance coverage; visa assistance; student rates on public transportation; and the opportunity to build an international network of peers and mentors.
Students enrolled in master's or doctoral programs abroad who have been invited by a HebrewU faculty member to collaborate on research for a period of up to one year may apply to this program. Visiting Research Fellows may not enroll in courses, with the exception of Modern Hebrew or Modern Standard Arabic language courses, for an additional fee.
Hebrew University Quick Facts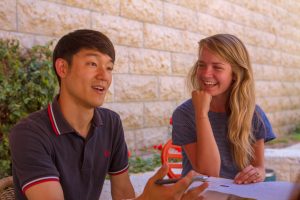 We offer courses and programs in a variety of fields, with a focus on social and political sciences, Israel and the Middle East, languages, religion, fine and performing arts, business and legal studies, and STEM.
Live on-campus with international and Israeli students – including a staff of Israeli students who help you navigate life in Jerusalem. This vibrant city will be your second classroom, full of trips and tours.
Apply online to begin your adventure in Jerusalem at the highest-ranked university in Israel.