At the Office of Student Life (OSL), we design extracurricular programs to introduce you to the land of Israel on a personal level – its people, food, geography, culture, and politics.
The many exciting events, tours, and activities will complement your academic program and allow you to see Israel from new angles. We have decades of experience providing international students with a fun, meaningful, and memorable Israel experience. We're happy to be traveling with you on your journey of discovery.
Tours
All tours leave from the campus and include transportation, a tour guide certified by the Ministry of Tourism, a security guard, and a madrich (student life staff and guide) from the Rothberg International School. See our list of current activities.
Point System
The cost of an activity is represented in points. We provide discounts to students purchasing more than one point at a time, as outlined in the chart below:
Price (US$)
Points
$40
1
$70
2
$100
3
$130
4
$160
5
$180
6
Each additional point beyond 6 will cost $30.
Paying for Your Activities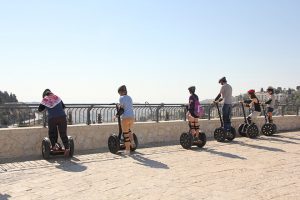 If you are here for the full semester or year and have paid full tuition, you may already have points. You can check on your personal information screen. Here is the process for paying for activities:
Check the list of current activities and decide what you'd like to do, taking note of the total number of points required.
Using the chart above, calculate the correct dollar amount (USD) you'll need to pay.
Use your student number (ID) and 5-digit personal code to log in and pay the correct amount via our online system.
Please make sure to note the tracking number found on the final payment screen.
After you have purchased your points, please register for the activities in Boyar Building Rooms 401-404.
Current Activities
Check out our weekly newsletter to learn more about our upcoming activities.
Learn more about our staff and programs: