Admissions Questions?
Division of Graduate Studies
Rothberg International School
The Hebrew University of Jerusalem
Boyar Building, Room 520
Mount Scopus 91905
Jerusalem, Israel

Email 
Tel.: +972 2 588 3183
Fax: +972 2 588 2363
Reception hours: Sunday-Thursday, 10:00 a.m.-2:00 p.m.
Staff
Name
Position
Contact Info
Office
Naama Shpeter
Executive Director
Tel.: +972 2 588 3184
Email Naama
Boyar 522
Anna Krakovsky
Admission and Teaching Administrator
Tel.: +972 2 588 1194
Email Anna
Boyar 519
Naomi Churchill
Graduate Studies Coordinator
Tel: +972 2 588 3183
Email Naomi
Boyar 520
Saja Alasbah
Graduate Admission Assistant
Tel: +972 2 658 4000 Email Saja
Boyar 424
Amy Seroussi
Graduate Admission Coordinator
Tel.: +972 2 588 3482
Email Amy
Boyar 521
Hebrew University Quick Facts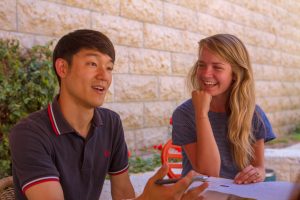 We offer courses and programs in a variety of fields, with a focus on social and political sciences, Israel and the Middle East, languages, religion, fine and performing arts, business and legal studies, and STEM.
Live on-campus with international and Israeli students – including a staff of Israeli students who help you navigate life in Jerusalem. This vibrant city will be your second classroom, full of trips and tours.
Apply online to begin your adventure in Jerusalem at the highest-ranked university in Israel.