In addition to a wide range of Hebrew and Arabic language courses, it may be possible for you to study additional languages while at Hebrew University. Please note that most languages listed below are taught in the Hebrew language.


Ancient Languages
Akkadian (year – Beginner or Intermediate)
Biblical Aramaic (offered biannually)
Greek (year – Beginner)
Hittite (offered periodically)
Ugaritic (offered periodically)


Other Middle Eastern & Islamic Languages
Additional Middle Eastern and Islamic languages are available through HebrewU's Faculty of Humanities. Offerings include languages such as:
Modern Turkish
Ottoman Turkish
Persian


European Languages
Languages such as French or German are available through HebrewU's Faculty of Humanities.


Questions
If you are interested in studying a language other than Hebrew or Arabic as part of your program, please contact the appropriate division with questions.
Hebrew University Quick Facts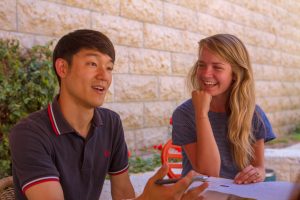 We offer courses and programs in a variety of fields, with a focus on social and political sciences, Israel and the Middle East, languages, religion, fine and performing arts, business and legal studies, and STEM.
Live on-campus with international and Israeli students – including a staff of Israeli students who help you navigate life in Jerusalem. This vibrant city will be your second classroom, full of trips and tours.
Apply online to begin your adventure in Jerusalem at the highest-ranked university in Israel.