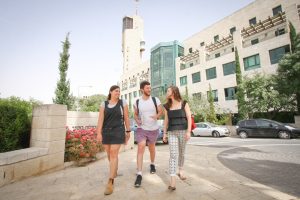 Hebrew University is a multidisciplinary institution of higher learning and research, and a scientific center of international excellence.
 Our faculty and alumni have won numerous national and international prizes, including the Nobel Prize. Learn more about our award winners on the main HebrewU website, or visit our YouTube channel for a rich array of videos highlighting academic achievements.
Hebrew University Quick Facts
Founded: 1918 (opened 1925)
Senior Faculty Members: 1,000
RIS Students: 2,300
Total HebrewU Students: 22,000
Faculties: 7
Schools: 14
Academic Departments: 315
Research Centers: 100+
Alumni: 100,000
Nobel Prizes: 8
Fields Medal for Mathematics: 1
Israel Awards: 269
Wolf Prizes: 9
EMET Prizes: 33
Rothschild Prizes: 89
Hebrew University's Rothberg International School offers you a challenging and rewarding academic environment to help you achieve your goals. Our tailored, flexible programs offer short- and long-term study opportunities.