Office of Student Life
The Office of Student Life (OSL) strives to immerse you in Israeli culture and society
through trips, programs, and events
during your time in Israel. We also connect you with Israeli students who work for OSL as 
madrichim
(social life staff). Your
madrich
 can assist you with all Israel-related questions, ranging from "How do I plan a sea-to-sea hike?" to "Where is the best hummus?" to "Where do I go for medical care?"
Student Life Staff
No matter what you need, we are here for you! 
Meet your madrich
, or get in touch with OSL leadership.
Jerusalem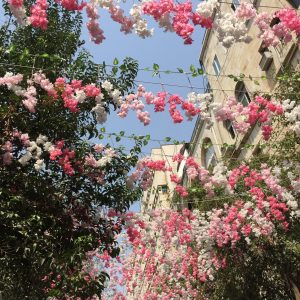 Studying in Jerusalem gives you a unique experience that no other place can provide. On the cutting edge of high-tech research and development, our city is an
international center for entrepreneurship
. It is modern and thriving. But Jerusalem also has a rich history and culture important to much of the world. Considered a holy city by three of the world's major religions, Jerusalem combines both tradition and innovation. Here, you can soak up the historical significance while breaking new ground. You can learn and grow both academically and personally. You will forge friendships and have experiences that will remain some of your most memorable. Here, you'll learn more about yourself and about the world. And did we mention how incredible the food is?
Learn more about Jerusalem.
The Hebrew University of Jerusalem
You'll be studying at the best university in Israel. Hebrew University's Rothberg International School (RIS) offers you exciting,
challenging programs
with tailored options and services. We can match your interests with the right program. Enjoy great facilities and develop important networks. Work with accomplished faculty and gain a group of friends who will go on to do great things. Our decades of expertise in serving international students means your experience will be a good one.
Important Resources
Living in university housing is an important part of the RIS study abroad experience. You'll meet students from many different cultures and countries.
Find out how to register for health insurance coverage while you are at RIS – a requirement for all students.
Take a 360-degree virtual tour of Hebrew University.
Check the map of Hebrew University's Mount Scopus Campus.
Contact Us
Get in touch with your madrich
, or
contact OSL
 with any general questions or requests for assistance.