The weekends are the only real time I have to explore Jerusalem to find the small gems of this city. My days are so filled with Hebrew and dance classes that by the end of each day, I usually can't find the energy to get myself out to explore.
Some of my favorite weekends are spent chilling at the Student Village with friends, hosting and going to Shabbat dinners, or having a relaxing evening. Gathering friends together and sharing a dinner is definitely a weekend highlight where we can talk about the week and decompress from our busy lives.
Sometimes going to the Shuk on Friday mornings is necessary to prepare for the following week. However, going then is the busiest time. The crowded market is filled with people preparing for Shabbat, making it difficult to navigate through the small streets, but the lively energy of the merchants and the loud crowds always make for an interesting trip. I'm surprised that I manage to successfully buy produce when I leave the Shuk on the busy day! The chaotic and exciting nature of the Shuk on Friday mornings always excites me, but I try not to do it every week since it is a lot to deal with.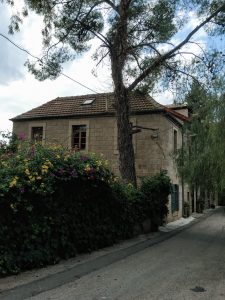 One weekend I went to brunch in the German Colony with two friends. The German Colony is a quaint neighborhood with gorgeous houses and beautiful roads. It is a nice escape from the business of downtown Jerusalem.
While walking after brunch, we came across this interesting structure in a lovely park. The geometric structure is made of wood and is where people can go up and get a beautiful view of Jerusalem. There was also live music on a nearby café patio. Finding this small getaway in Jerusalem was so pleasant. It was fun to just wander around and come across this unique place. I think accidentally coming across unique places in a city is one of my favorite things to do while exploring.