Overview
The Rimon Fellows program invites Jewish Orthodox college students to study abroad at the Rothberg International School at Hebrew University, providing the opportunity to spend a semester in Jerusalem while connecting to Israel, Jewish learning, and community. 
The program caters both to students who have previously participated in a gap year in Israel and those who have not. Coming back for a semester of university studies as a young college adult will be a whole new way to experience Israel.
In addition to the coursework, Rimon Fellows will facilitate a vibrant community with like-minded friends, connecting or reconnecting to Yeshiva/Midrasha, and experiences to help understand what it means to live in Israel as a young adult.
The following program opportunities are available to Rimon Fellows: mentorship, beit midrash program, meeting with industry leaders, Rimon dinners, Israeli community exploration, networking events, Shabbatons, connection with Yeshivot/Midrashot, chavruta placement, and VIP events and trips around the country and more!
Hebrew University Quick Facts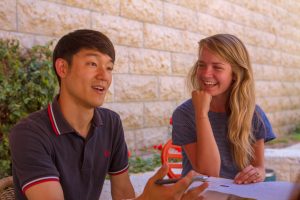 We offer courses and programs in a variety of fields, with a focus on social and political sciences, Israel and the Middle East, languages, religion, fine and performing arts, business and legal studies, and STEM.
Live on-campus with international and Israeli students – including a staff of Israeli students who help you navigate life in Jerusalem. This vibrant city will be your second classroom, full of trips and tours.
Apply online to begin your adventure in Jerusalem at the highest-ranked university in Israel.