Hebrew University provides state-of-the-art computer services, both in on-campus facilities and for use with your personal computer. 
Technical Support
The computer support staff is located in Boyar Building Room 106.
Tel.: +972 2 588 1253
Hours: Sunday through Thursday, 8:00 a.m. to 4:00 p.m.
Public Computer Facilities
Boyar Building Room 107
The computers in this room offer internet and email access, as well as Microsoft Office. A black-and-white laser printer is available. Room 107 is also used for regular classes, with schedules generally posted by the door. If the room is needed for a class, students who are not enrolled must leave before the class begins, even if it is not on the schedule.
Hours: Sunday through Thursday, 8:30 a.m. until library closing time (posted in advance).
Berel Ginges Computer Center
Located on the lower level of the Forum, near the Learning Center for the Blind, this center has more than 200 computers for student use. You can reach the center via the public transportation entrance to HebrewU, in the tunnel. Printers, scanners, and CD/DVD writers are available.
Agnes Ginges Computer Center
Located in Social Sciences Building 7, this center has 200 computers, as well as printers and multimedia stations.
Hours for Berel Ginges and Agnes Ginges Computer Centers:
Sunday: 9:00 a.m. to 10:00 p.m.
Monday through Wednesday: 8:00 a.m. to 10:00 p.m.
Thursday: 8:00 a.m. to 7:00 p.m.
Please note: These are regular hours during the academic year. Summer hours may vary.
Setting up Your Account
In order to use the public computers on campus, you must create a HebrewU computer account. You will need your student ID number and personal code (provided at registration).
Go to ad-accounts.huji.ac.il and enter your student ID number (first eight digits) and personal code.
Agree to the declaration of proper use. (This is required.)
Enter your details and create a username and password according to the guidelines provided.
Please remember your username, password, and personal code for future use. To change your account password, repeat steps 1-3. 
Using Your PC on the HebrewU Network
On Campus
Wireless Connections
For quick internet access on a limited connection, you may use the HUJI-Guest network.
For an unlimited connection, including access to restricted library resources, follow these steps:
Create a remote-access account.
Download and install the Samba VPN client.
Connect to the HUJI-NetX network and log in using your remote-access account and the VPN client.
Click here for more information.
Wired Connections
Public ports for wired laptop connections are available in the following locations:
Rothberg International School (RIS) Library
Social Sciences Building 1
Bloomfield Library for Humanities and Social Sciences (main library)
Archaeology Library
Law Library
A remote-access account (see above) and an ethernet cable are required.
Click here for more information.
Off Campus
You may connect to the internet in student housing and other off-campus locations via ADSL with Bezeq (the phone company) or cable internet with HOT (the cable company).
Residents of Idelson (Bronfman) 18, 19, and 20 and Reznik 5, 6, and 13 may also use public ports to connect their computers. A remote-access account (see above) and an ethernet cable are required.
For off-campus access to library resources, etc., you must connect using a remote-access account and a Samba VPN connection.
Click here for more information.
Printing
Black-and-white laser printers are located in the RIS and Room 107 in the Boyar Building. Color laser, transparency, and duplex printers are available in the computer centers.
You may print from a public computer in the Boyar Building at a cost of NIS 0.15 per page. You can use a smart card (Mafil), which may be purchased and recharged at the computer centers and main library, or you can use your personal credit card. (Note it may be more expensive to use a credit card due to currency exchange rates.)
Scanning
A scanner is located next to printer at the library. Scanning is free of charge.
File Storage
Always back up your important files. Your data will not be saved on public computers after they've been restarted. Storage options include:
Drive K
Drive K is a network-based drive that can be accessed from any public computer at HebrewU. Storage space for each account is limited to 100 MB.
To access your Drive K from a public computer on campus, look for the shortcut on the desktop that is labeled with your username.
To access your Drive K online, log in here with your username and password.
USB Drive
All public computers on campus are equipped with USB ports for use with a flash drive (also known as a memory stick or disk on key).
If your flash drive isn't recognized by the computer, click the "Fix USB" icon on the desktop. 
University Email Account (HUJImail)
Students registered for at least one full semester are entitled to a HUJImail account. Your username and initial password will be provided at registration and can be accessed from the HebrewU home page by clicking "Students" > "Personal Information."
If you are using a desktop email client (as opposed to a web-based mailbox), you must use HebrewU's outgoing mail server (SMTP):
outmail.huji.ac.il
For more information and help, click here or contact the support staff. 
Hebrew University Quick Facts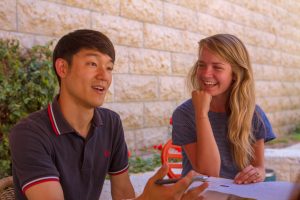 We offer courses and programs in a variety of fields, with a focus on social and political sciences, Israel and the Middle East, languages, religion, fine and performing arts, business and legal studies, and STEM.
Live on-campus with international and Israeli students – including a staff of Israeli students who help you navigate life in Jerusalem. This vibrant city will be your second classroom, full of trips and tours.
Apply online to begin your adventure in Jerusalem at the highest-ranked university in Israel.