RIS reserves the right to change fees at any time.
These tuition and housing costs for students in the Mechina Program apply only to international students or Israeli citizens who are not residents of Israel. If you are an Israeli citizen and you reside in Israel, please see the page for Israeli citizen residents.
Students taking more than one program (i.e., Summer Ulpan and Autumn Semester) are required to meet all their financial obligations by the deadline of the first program they will attend. 
Application Fee
US$ 80 (per academic year; non-refundable)
Pre-Semester Program Requirements
You will take a placement exam to determine your level for the summer language ulpan programs. The housing fees listed below include the days between the Jerusalem Ulpan and Summer Ulpan and between the Summer Ulpan and the beginning of the academic year.
All fees include the period from the end of the ulpan until the start of the autumn semester.
[table "" not found /]
**Please note that currently the university housing is not available for the period of Jerusalem Ulpan. Please be in touch with us in April at rishousing@savion.huji.ac.il in order to check availability. We apologize for the inconvenience.
Learn more about the ulpan. Find out if you qualify for scholarships and financial aid.
Academic Year
Full-Time
[table "" not found /]
Learn about scholarships and financial aid.
Part-Time
You may opt to take up to two courses per semester, including Modern Hebrew. In order to calculate your total cost, add the Administrative Fee to your Course Fee per Semester costs. Note that one academic year course is equivalent to two semester courses.
Part-Time Study Period
Administrative Fee*
Course Fee per Semester
Housing
Academic Year
US$ 1,245
Hebrew / English / Mathematics courses:
-US$ 170 per weekly hour
-All other courses: US$ 400 per credit
US$ 6,180
Autumn Semester
US$ 670
US$ 2,530
Spring Semester
US$ 720
US$ 3,210
*Fees include health insurance.
Learn about scholarships and financial aid.
Housing
Housing costs are outlined in the tables above. To learn more about housing, visit our housing page.
Miscellaneous
| Miscellaneous Charges | |
| --- | --- |
| Replacement of student card | NIS 60 |
| Visa letter | US$ 15 |
| Hard copy of transcripts (beyond first five)* | US$ 15 |
| Request a certified e-transcript (one-time fee) | US$ 10 |
| Email an e-transcript to any specified address (per copy) | US$ 15 |
Bachelor's Program
Interested in the long-term costs? Here is an estimate of tuition for a standard bachelor's degree program at Hebrew University.
| | Tuition | Health Insurance | Housing |
| --- | --- | --- | --- |
| Three-Year Undergraduate Program | Approx. US$ 3,220 x 3 years | US$ 350 x 3 Years | US$ 5,292 (12 months) x 3 Years |
Learn about scholarships and financial aid.
Refunds
Hebrew Language Courses & Part-Time Student Refunds
| Date of Withdrawal | Charged |
| --- | --- |
| Prior to the beginning of the program | US$ 250 (800 NIS) |
| During the first three days of the program | 25% of tuition fee |
| Between the fourth and the sixth day of the program | 50% of tuition fee |
| After the sixth day of the program | 100% of tuition fee |
Tuition Refunds
If you cancel your studies prior to the beginning of the academic year or semester, you will be charged a US$ 250 withdrawal fee and for any points you may have utilized for activities coordinated by the Office of Student Life.
Once the academic year begins, withdrawal from the program is contingent upon submission of a completed Notice of Withdrawal that has been approved and signed by your department. 
The withdrawal charges are as outlined below:
| From: | October 10 , 2021 | November 11, 2021 | January 14, 2022 | February 6, 2022 |
| --- | --- | --- | --- | --- |
| Mechina | US$ 3,875 | US$ 8,100 | US$ 8,725 | US$ 12,500 |
| BASIS | US$ 3,000 | US$ 5,832 | US$ 6,282 | US$ 9,000 |
Housing Refunds
Students who have accepted a room key and/or have moved personal possessions into a room and then wish to vacate university housing must submit written notification to the RIS Finance Office, Boyar Building 501/502. Refunds are issued minus the payment for the days the student resided in the housing (US$ 30 per day of occupancy).
Students who withdraw from an ulpan and vacate university housing within the first three days of classes are issued a refund, provided they present official clearance from the Housing Office confirming their departure.
Students who withdraw from the program or who vacate their rooms after the first three days of classes are not entitled to a housing refund. Semester/year students who cancel their housing reservation or vacate their room by October 26, 2019, may receive a refund for the housing fee paid for the autumn semester or academic year.
Students who vacate university housing between October 27, 2019 and the end of the autumn semester (February 9, 2020) are charged for the entire month in which they vacate their rooms plus one additional month of rent.
After the end of the autumn semester, no refund is available for the balance of the academic year.
Hebrew University Quick Facts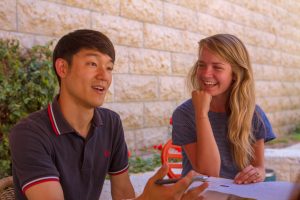 We offer courses and programs in a variety of fields, with a focus on social and political sciences, Israel and the Middle East, languages, religion, fine and performing arts, business and legal studies, and STEM.
Live on-campus with international and Israeli students – including a staff of Israeli students who help you navigate life in Jerusalem. This vibrant city will be your second classroom, full of trips and tours.
Apply online to begin your adventure in Jerusalem at the highest-ranked university in Israel.