Prof. Yiftach Ron is a lecturer and researcher in social science at Hebrew University, with a focus on intergroup conflict, dialogue, and peace-building. He has been honored as an outstanding lecturer by the university's Faculty of Social Sciences, and his doctoral dissertation, "Interrelations between Collective Narratives, Personal Narratives, and Continuous Involvement of Israeli-Jews in Dialogue Processes with Palestinians in Israel," won the Tel Aviv University Walter Libach Institute prize for doctoral dissertations that advance equality and fairness among Jewish and Arab citizens in Israel. Prof. Ron holds doctoral and master's degrees in communication and a bachelor's degree in history and education.
Firsthand Experience
When Prof. Ron teaches intergroup dialogue and peacemaking at HebrewU's Rothberg International School (RIS), he is drawing on decades of firsthand experience. While his career began in education, as a high school history teacher, he also spent years as a facilitator, coordinator, trainer, and director with dialogue programs for Israeli Jews and Palestinians.
"I started as a participant in one of the groups, then one thing led to another," he explains. "It was a very significant process for me."
Ron says he's seen such dialogues change the way people see not only each other, but themselves. He's worked at the School for Peace, an organization that uses education to promote a more egalitarian society, and in the Jewish-Arab Center for Peace's "Face to Face" program. As educational director of that program, Ron helped recruit, train, and support new group facilitators and helped them develop and design the models they used to lead dialogues. He also served as a liaison with schools and other partners, in Israel and around the world.
While much of Ron's work has focused on the Israeli-Palestinian conflict, he has worked with groups from many other countries as well. Projects he's led include a Holocaust studies program for Israeli, German, and Polish teachers and students; a joint food cooperative for residents of Jewish and Arab neighborhoods in Jerusalem; and several youth exchange programs.
Ron was also a team member and coordinator in the Peace Research Institute in the Middle East's dual-narrative history project. Led by a team of Israeli and Palestinian history teachers, the project included the joint writing of a book on the twentieth-century history of Israel and Palestine. "The narratives of the two peoples … are presented side-by-side," Ron explains. The book was published in several languages, and Ron has since been involved in efforts to implement a dual-narrative model in Israeli and Palestinian schools.
He has also published research on how Palestinian historical narratives are taught by Jewish-Israeli teachers.
In the Classroom
In addition to his research and his work in the field, Ron is a passionate and accomplished educator. "I love teaching … and am constantly learning from the process," he says. "More than anything else, I am a teacher."
And, he says, leading a class discussion has much in common with his work as a group facilitator. In both cases, he believes it's about much more than the subject matter. "The main thing is not about the contents I give. It's about enabling a … space for new experiences," he says. "What I find most significant for me is … the processes that happen in the room."
At HebrewU, Ron teaches a course called Hostility and Recognition: Social-Psychological Dynamics of Intergroup Conflict. It's designed to help students understand how factors such as intergroup bias, selective information processing, and resistance to change can lead to and affect conflict – and how psychological factors can be used constructively, to promote peace.
"I think what I'm trying to enable most is self-reflection," Ron explains. "To enable students to learn something new about themselves." In a recent class, for example, he asked students to bring in a photograph or object that represents part of their identity – and then explain it to the class. "There were quite amazing things," he says. "When it's combined with other kinds of teaching, with theory … There's some kind of integrative learning that I hope is transformative in a way."
For Ron, teaching doesn't mean simply lecturing his students. "We teach and learn together. Of course I facilitate … but what I'm trying to create is a space in which we all go through some kind of learning process." The fact that students at RIS come together from all over the world, he says, makes that process more special. "I'm trying to expose them … Again, not to teach them about Jerusalem or Israel or Palestine, but to expose them to the events, experiences, people, narratives of this place – this land I think is special. It's part of the journey … part of the unique experience they're having."
Education
Doctorate in communication, The Hebrew University of Jerusalem (2015)
Master's degree in communication, The Hebrew University of Jerusalem (1998)
Bachelor's degree in history and education, The Hebrew University of Jerusalem (1993)
Learn more about studying at RIS
Our Strengths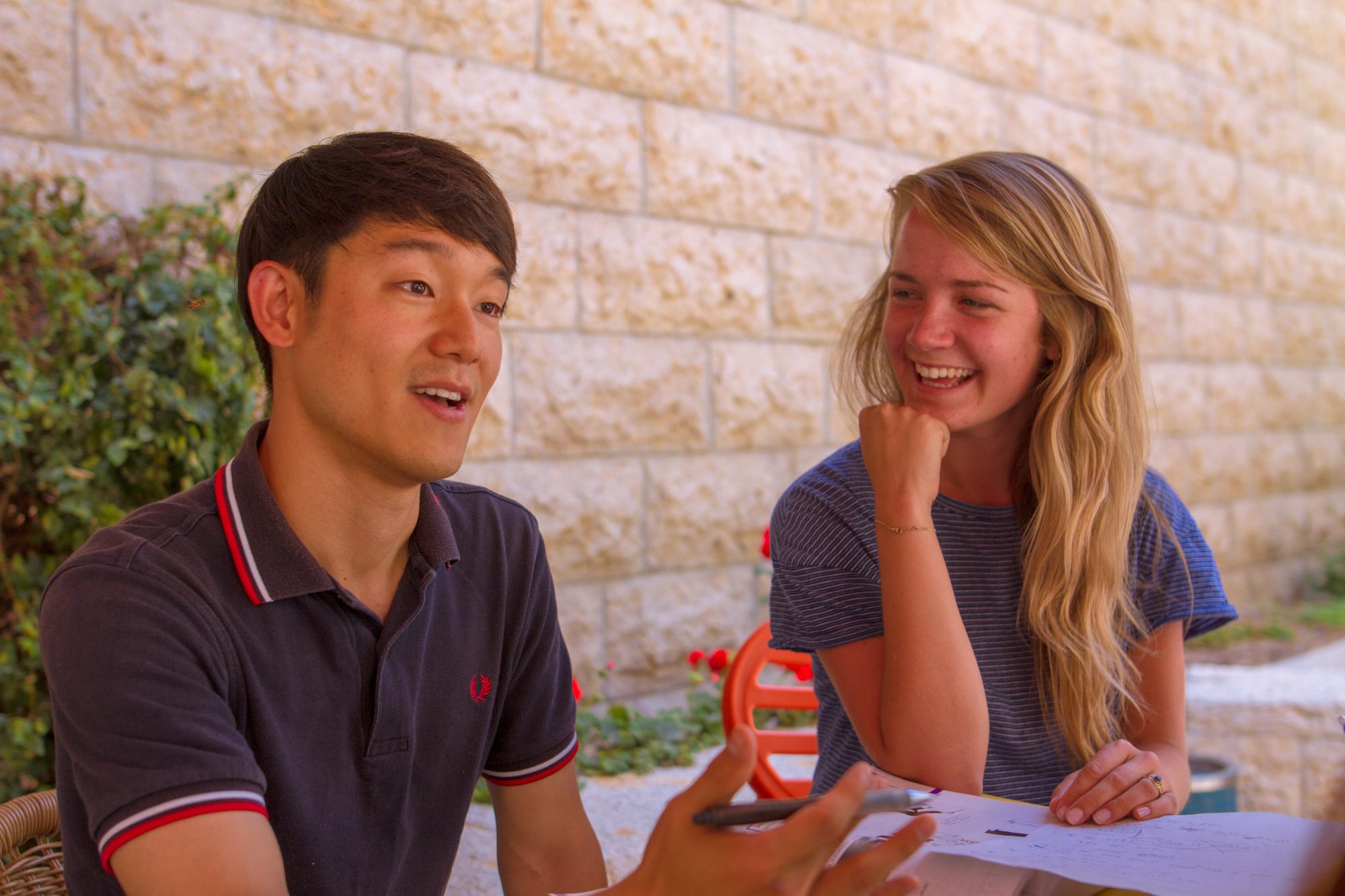 We offer courses and programs in a variety of fields, with a focus on social and political sciences, Israel and the Middle East, languages, religion, fine and performing arts, business and legal studies, and STEM.
The Real Jerusalem
Live on-campus with international and Israeli students – including a staff of Israeli students who help you navigate life in Jerusalem. This vibrant city will be your second classroom, full of trips and tours.
Apply Now
Apply online to begin your adventure in Jerusalem at the highest-ranked university in Israel.

Instagram