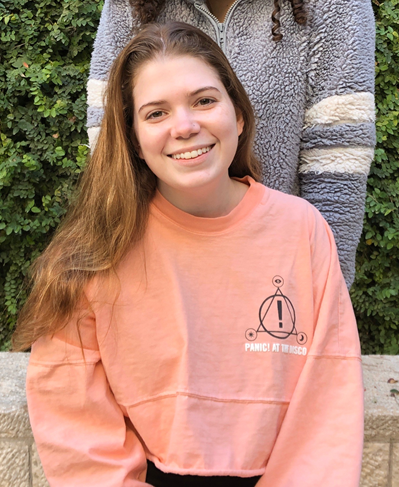 Last December 24, during the winter break of Eliana's Freshman year at the University of Hartford, she landed in Israel for a visit to her first cousin's bar mitzvah and instantly felt comfortable. Eliana had grown up visiting both Israel and her large family here frequently, the first time being for her aunt's wedding in Jerusalem. She grew up hearing many stories of her mom's year studying at Rothberg during college, and Eliana knew that if she was going to spend a year in Israel, she wanted it to be in Jerusalem. That winter break trip is when she decided she was going to spend a year studying in Israel.
Eliana's first semester at the University of Hartford had been tough religiously when she dealt with challenges of being one of the few people keeping shabbat and kashrut. In contrast, many of her peers from her Jewish day school/high school were studying in Israel for gap years at Yeshivot , but she decided that she wanted to go straight to college to begin her studies in art. However, coming to Israel to learn abroad was always a thought in her mind, and she had grown up hearing all about her mom, Aviva's year at Rothberg.
Aviva studied at Rothberg for her junior year of college from Columbia and the Jewish Theological Seminary in 1993-94. She began her year with a 6 week Ulpan and learned enough Hebrew to take some classes in Hebrew in the main Hebrew University, and then spent both semesters at Rothberg. Aviva said "I went to Hebrew U because I wanted to spend a year learning in Israel and couldn't imagine living in any city but Jerusalem. Also, as a history major it was the perfect school for me to take classes!". She came to Rothberg with her three best friends from college and said it was the best year of college! Whenever they had the chance, they traveled all over the country together. They still have a very close bond today as a result of their year in Israel together.
When Eliana returned to the University of Hartford to start her second semester, she met another student who had studied at Rothberg, and she was convinced even further. "When I learned that I could take Jewish Art History classes, and fill my school requirements with classes that focused on Israel, I knew I wanted to go." Plus, she had grown up hearing her mother, Aviva, talk about the amazing time she had at Hebrew University. So, it was the only choice that made sense to Eliana –to study at Rothberg International School of the Hebrew University.
As for Aviva, she is thrilled that Eliana decided to make Hebrew University a family tradition! "It so much fun to relive my experiences through Eliana's eyes now, and I am so excited for the year she is having!"
It's so great to hear back from you Aviva, and it's so exciting your'e keeping up the family tradition Eliana. We wish you lots of Hatzlacha!