M.A. in Nonprofit Management and Leadership (2015)
B.A. from Ithaca College, US
"It was just a year ago that I sat in my first class in the Rothberg International School for my first course in my year-long adventure in Nonprofit Management and Leadership. I knew so little about the year on which I was on the verge of embarking. I did not know then that I would have built relationships with professors who would create the connections that would land me my new job in New York City. I did not know then that my classmates would become my co-founders for a dozen projects – and become my lifelong friends. I did not know then that Jerusalem would become my home away from home.  
"And now as I am one month into my job on the executive staff in the Strategic Marketing and Communications department at the Jewish Federations of North America, the lessons of my Leadership and Social Responsibility course stare straight into my eyes in every team meeting I attend. The comprehension of organizational structure given in our Boards and Volunteering course provide my unique perspective into the tries and opportunities of working with such a huge legacy organization. And the forward thinking provided in Strategic Approaches to Social Innovation allows a freshness of project management that seems to excite my new co-workers and supervisors.
"I am prepared to take my new world by storm. I am prepared to fill it with goodness. I am prepared to make every professor who believed in me and every partner in every project proud of the legacy I now begin to create as an alumnus of the Hebrew University of Jerusalem.
"Thank you, Hebrew University, for your part in paving the way that allowed me this experience. I wear it with me every day as it continues to sharpen my mind and curate my curiosity."
Hebrew University Quick Facts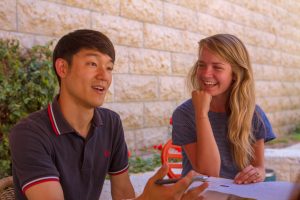 We offer courses and programs in a variety of fields, with a focus on social and political sciences, Israel and the Middle East, languages, religion, fine and performing arts, business and legal studies, and STEM.
Live on-campus with international and Israeli students – including a staff of Israeli students who help you navigate life in Jerusalem. This vibrant city will be your second classroom, full of trips and tours.
Apply online to begin your adventure in Jerusalem at the highest-ranked university in Israel.