M.A. in Islamic and Middle Eastern Studies (June 2017)
B.A. from Sun Yat-sen University, China
"Having been studying at the Hebrew University of Jerusalem for almost one year, I have to say that this year is one of the most unforgettable and illuminating years in my life. 
"I'm doing the one-year M.A. program in Islamic and Middle Eastern Studies, which exposes me to an international atmosphere, various multilingual classmates, and numerous fascinating stories about Israel and Jerusalem as well as the chance to learn Arabic and Hebrew at the same time. The courses are very intensive since there are plenty of readings to do before every class, and sometimes the assignments are also very heavy, but through such large amounts of readings, I learned more about the Middle East, especially when I took the opportunity to explore holy Jerusalem in the study tours during the summertime.
"There are really bundles of reasons to stay at HebrewU to study: well-organized educational system and courses, learned professors, active international classmates, kind office staff, etc. To sum it up, if you want to study Middle Eastern history, languages, anthropology, religions, and even arts, the Hebrew University of Jerusalem should be for you."
Chinese Version:
在耶路撒冷希伯来大学学习已经快一年了,在这里学习的一年是我一生中最难忘的最受启发的学习阶段之一。
我学习的是一年期的硕士学位项目-伊斯兰及中东文化研究,与来自世界各地的同学们一起学习中东国家的历史、政治、宗教文化等等,同时我也有机会同时学习希伯来大学提供的阿拉伯语和希伯来语课程。这一年的课程安排很紧凑,学习任务也很重,但是正是因为大量的阅读我能够更全面的了解中东国家的情况,特别是以色列和耶路撒冷的历史与现状。与长期受到的国内教育不同,希伯来大学提供大量地到校园外学习的机会:上课通常是边游览古迹,边学习历史,非常深刻。
当然,选择到瑜路撒冷希伯来大学学习的理由是很多的,像是多元化的学习氛围、合理安排的课程、有效的教学形式、学问颇深的教授、耐心有效的办公室老师······总的来说,如果想要更加了解中东文化、学习这里的语言,那耶路撒冷希伯来大学将会是一个很好的选择。
Hebrew University Quick Facts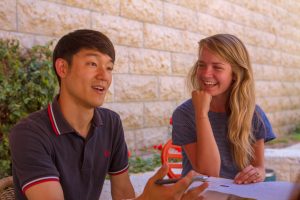 We offer courses and programs in a variety of fields, with a focus on social and political sciences, Israel and the Middle East, languages, religion, fine and performing arts, business and legal studies, and STEM.
Live on-campus with international and Israeli students – including a staff of Israeli students who help you navigate life in Jerusalem. This vibrant city will be your second classroom, full of trips and tours.
Apply online to begin your adventure in Jerusalem at the highest-ranked university in Israel.