M.A. in Islamic and Middle Eastern Studies (2016)
B.A. from Sun Yat-sen University, China
Currently pursuing Ph.D. at Peking University
"I came from Xi'an, China, a time-honored city with a large population of Muslims. During my bachelor years, I studied for double majors, English and Arabic language, at Sun Yat-sen University (SYSU). I then pursued two M.A. degrees, both with full scholarships, one in Foreign Linguistics and Applied Linguistics at SYSU and the other in Islamic and Middle Eastern Studies at Hebrew University's Rothberg International School (RIS). Throughout the seven years' studies at university, I found out that what truly attracts me does not lie in the languages themselves, but the societies, cultures, and politics behind the languages.
"During the senior year of my bachelor studies, I went to Jordan, the first Arab country I've been to, as an exchange student to further strengthen my Arabic language skills. It was also during that year that I saw for the first time in my life real scenes of Middle Eastern conflicts: Palestinian protesters against Israel, defacing the flag of Israel on campus; talks of Jordanians about thousands of hundreds of Syrian refugees pouring into Jordanian streets; latest news about wars and conflicts in Yemen, Egypt, Libya…
"One year later, I was accepted by the Islamic and Middle Eastern Studies program at RIS. This program not only provided me with an opportunity to acquire a new language (Hebrew), but laid a solid foundation for my further research on the Middle East. For me, living in the holy city with Palestinian and Israeli friends all around, I truly had lessons of the complex reality of that land. At the same time, our seminars about wars, peace, and international regimes in the Middle East engaged me to do research on China's role in the peace process of the Middle East. Earlier this year, I was successfully accepted by Peking University as a PhD student in Middle Eastern Studies. I truly believe previous studies at Hebrew University's RIS did me a great favor, offering me high-quality resources and unique perspectives for my future research, along with language learning, real-life experience, and well-known professors."
Hebrew University Quick Facts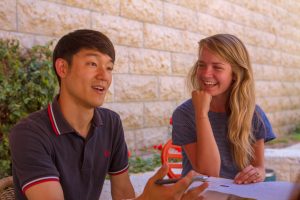 We offer courses and programs in a variety of fields, with a focus on social and political sciences, Israel and the Middle East, languages, religion, fine and performing arts, business and legal studies, and STEM.
Live on-campus with international and Israeli students – including a staff of Israeli students who help you navigate life in Jerusalem. This vibrant city will be your second classroom, full of trips and tours.
Apply online to begin your adventure in Jerusalem at the highest-ranked university in Israel.