Type the username created for you in step 1 into the RA Username, followed by "%ra".
RA Username: [your unique username]%ra
Type the password you created in step 1 into Password field.
Click Login.
Choose your operating system.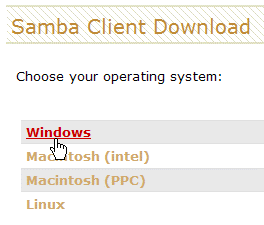 Save the installation file on your computer:
Click Save File.
Choose the location in which you want to save the file and write it down.
Double click the file you saved, and then click Run.
Install the program and click Finish.
In order to operate the program:
For Windows: find Cisco -> Cisco AnyConnect VPN Client for Windows in your Start Menu.
For Mac: search Cisco folder for Macintosh in Finder.
Double click on application to run.
On the first run of the application, enter the following address: samba.huji.ac.il
Click Connect.
Enter the username of your remote access account from step 1.
Enter your password from step 1.
Click OK.
The system will remember the address from step 8 and your username. Next time you connect, you will only have to enter your password.
Step 10: Connecting and Disconnecting
The small icon in the icon bar indicates a connection.