Dr. Liora Arnon
Liora Arnon is head of innovation, research and knowledge development at the Israeli Volunteering council, a well-established infrastructure NGO, that aims to maximize collaboration at the local and national levels and across sectors for nationwide volunteer engagement strategies and volunteer infrastructures in Israel. Liora worked for 10 years as head of Knowledge Development at JDC Israel Voluntarism division. Liora is a leading practitioner and trainer in the field of volunteer management. As a former Volunteer Manager herself, she combines theory and practice while providing consulting to many NGO's around the country. As one of the co-founders of SAHAR, an organization offering on-line assistance to people experiencing emotional distress, Liora is also an expert in the field of virtual volunteering. She holds an MA in Non-Profit management and is involved in research projects regarding volunteer management.
Ms. Liora Asa
Ms. Liora R. Asa has over 20 years of professional experience in non-profit capacity building. She has served as adjunct lecturer on Philanthropy and Fundraising at the University of Haifa's MBA for Nonprofit Management program, and the Western Galilee College. At Galilee International Management Institute, she lectures on fundraising, grant writing, resource development strategic planning, and telling an organization's story. Ms. Asa served as on-line lecturer in grant writing for the International Development Certificate graduate program of the University of Massachusetts, Boston. She co-facilitates the Paideia Summer Incubator program for young Jewish social   entrepreneurs throughout Europe and the FSU. Before moving to Israel in 1996, Ms. Asa managed international development projects for a USAID contractor, Chemonics International.
Today, together with her training and consulting assignments, she also represents a European family foundation in Israel managing its grant portfolio.
Dr. Yulia Ben Rephael-Zemlinskaya
Yulia Ben Rephael-Zemlinskaya grew up in St Petersburg, Russia. She moved to Israel in 1997 in the framework of youth program SELA. By 2002 she completed her BA in Sociology and Political Sciences in Tel Aviv University, and continued to pursue academic career in the UK. 
Yulia received her PhD in 2008 at the University of Manchester. Subsequently, she served as a Post-Doctoral Research Fellow in the Sociology Department for two years. Having moved to Israel in 2010, she continued her academic career at Ben-Gurion University of Negev, in the Politics and Government Department. There she worked as a Lecturer and as a Head of the Politics of Conflict MA program for three years (2010-2013). Dr. Ben Rephael- Zemlinskaya's expertise lies in the field of civil society and protest, organizational networks and nonprofits. She often commentates on the variety of socio-political issues concerning Israeli society in the media. In 2012 Yulia joined "Our Heritage" NGO as a member of the Board of Directors, and subsequently was appointed as its CEO. In 2019, Dr. Yulia Ben Rephael Zemlinskaya took part in national election campaign to the 22nd Knesset as a member of "Tzedek" party. Currently she combines academic work as an adjunct Lecturer at Rothberg School in Hebrew University, with the position in Public Affairs Division of the Tel Aviv University. 
Dr. Sydney Engelberg
Dr. Sydney Engelberg grew up in South Africa and attended the University of the Witwatersrand (Wits), the Hebrew University in Jerusalem and SUNY/Buffalo.
He is currently on the faculty of the Schwartz Program in Nonprofit Management, the Rothberg International School Nonprofit Leadership and Management Program, and the School of Public Health and Community Medicine, all at the Hebrew University; Associate Professor at Gratz College, Philadelphia and Visiting Professor at the Bologna Business School and the University of Florence, both in Italy.
He has been Master of a Residential University College in Sydney, Australia; Founding Director of the Program in Community Psychology at the University of New South Wales, Sydney, Australia; taught at Clarke University, USA and Derby University, England.
Dr. Engelberg has his own consulting company and clients include high-tech, manufacturing and non-profit Human Service Organizations, such as the World Bank, UNICEF, IBM, Microsoft and Intel amongst others. He has published widely and has worked in Latin America, North America, Europe, Asia, Great Britain, Australia and Israel.
Dr. Micahel Ganor 
A senior management consultant, holding a Ph.D. degree in Organizational Behavior from Greenwich U. and an M.A. cum laude in Educational Management from the Hebrew University of Jerusalem.
Founder and Executive Director of "Task Force International" Ltd., an interdisciplinary consulting firm dedicated to the promotion of quality management.  Over thirty years of practical experience as consulting practitioner in organizational and human resources development, specializing in community and leadership development.  Among his clients are: educational and academic institutions, government ministries, municipalities and other local authorities, the Israel Defense Forces, voluntary and community organizations along with other large service organizations.
Leading consultant for major innovative initiatives in urban and community development. 
Former senior management consultant for the Israel Association of Community Centers for developing mechanisms toward enhanced community empowerment and decentralized service delivery.
He supervised the training, organizational development and research activities of this network of thirty community organizations – one of the largest and highly sophisticated municipal management systems in the world based on community empowerment, decentralized service delivery, citizens involvement and participatory democracy.
Dr. Hamutal Gouri
Founding Director: Consult4good: consulting, training, and storytelling for social change.  Senior Fellow, the Kiverstein Institute
Hamutal is a cultural critic, lecturer, consultant, and storyteller for social change. She holds a BA in English Literature and Inter-disciplinary Studies, and an MA (Cum Laude) in Cultural Studies from the Hebrew University.
Hamutal served as Executive Director of the Dafna Fund, Israel's first and only feminist fund. She continues to serve as a consultant to foundations as an expert on funding with a gender lens. Her areas of expertise include organizational, program, resource, and leadership development; gender audits and mainstreaming; diversity, inclusion, and intersectional approach to social transformation. She teaches a course on Gender, Leadership and Action in Civil Society Organizations in the MA track in non-profit management at the Rothberg International School at the Hebrew U.
Dr. Itay Greenspan
Itay Greenspan is a Senior Lecturer at the Paul Baerwald School of Social Work and Social Welfare of the Hebrew University of Jerusalem. He holds a PhD in Social Welfare from the University of Pennsylvania and a Master degree in Environmental Studies from York University (Toronto, Canada). He is teaching in the Nonprofit Management programs at both School of Social Work and the Rothberg International School, and he is affiliated with the Institute for the Study of Civil Society and Philanthropy in Israel. His research focuses on the nexus of philanthropy, civic participation and environmentalism. He studies among other topics immigrant civic integration, volunteering in nonprofits, environmental public participation, the Israeli environmental movement, and environmental behaviors of individuals and families. Itay's work appeared in journals such as Nonprofit and Voluntary Sector Quarterly, Organization Studies, Journal of Civil Society, Voluntas, International Journal of Nonprofit and Voluntary Sector Marketing, Journal of Social Policy and more.
Mr. Rami Kleinmann
Rami is the Founder of Genius 100 Foundation, and the driving force behind its realization. He is central to its ongoing development and was instrumental in its inaugural project – the world's first 3D printed book, titled Genius: 100 Visions of the Future, featuring essays by the organization's 100 Visionaries. Since 2007, Rami has been the CEO and President of the Canadian Friends of Hebrew University (CFHU), which supports Israel's preeminent institution of higher learning. Under his leadership, CFHU has helped create numerous high-profile collaborations for Hebrew University (HU). He conceived the idea to turn HU's Institute of Medical Research (IMRIC) into a platform of collaboration between Canada and Israel in biomedicine for which $50 million has be raised to date in Canada. A respected innovator in the philanthropic field, Rami has been teaching a graduate course in fundraising at HU for many years.
Dr. Eric Lankin
Executive-level non-profit professional in administration, marketing, fundraising, budgeting, communications and strategic planning. Expert in stewardship and fundraising development including campaign strategic planning, individual major gifts solicitation and direct mail. Visionary and inspirational leader with strong relationship-building skills with fellow professionals and volunteer leaders; extensive board development, supervision and volunteer training experience.
Dr. Elli Malki  
I have been serving as a Chief Financial Officer (CFO) in nonprofits for more than 20 years. My experience as a CFO encompasses large and small organizations, both in Israel and abroad. Currently I am the CFO of Keren-Or Inc. – a US based nonprofit that operates a center for blind children with multiple disabilities in Jerusalem. I also advise nonprofits and help them to achieve their financial goals.
Mr. Laurence Metrick
Laurence founded The Metrick System in 1991, renamed TrailerWorks in 2018. Awarded second coolest corporate headquarters in the world by The Wall Street Journal, TrailerWorks services international clientele on branding through storytelling. When Laurence isn't telling stories for clients like McDonald's, NASA, Yamaha, Elte and Viagra, he's running his advertising competition, the National Advertising Challenge, keeping bees at the TW apiaries, and creating streaming properties such as The Moment That Changed Everything and Check Please.
Dr. Jonathan Mirvis
Jonathan is a senior lecturer at The Hebrew University of Jerusalem. His academic fields are social entrepreneurship, social innovation and Jewish Education.
He lectures to graduate students enrolled in the Hebrew University's Seymour Fox School of Education, the School of Social Work's Non-Profit Management program, the Business School's MBA program and the Glocal Community Development program.
In addition to his lecturing, Jonathan is the Melton Centre's Academic Head of the Megamah of Jewish Education within the School of Education. In 2004 he received the Kaye Innovation Award for his development of the social franchise model. He served as the International Director of The Florence Melton Adult Mini-School from 1991-2012.
In 2013, 2014 and 2018, Jonathan was recognized among the top 10% of Hebrew University lecturers based on student evaluations. Jonathan has a PhD from the University of Surrey is a graduate of Yeshivat Kerem B'yavneh and The Jerusalem Fellow. His research interests include social startups.
He is the author of the book:  It's Our Challenge: A Social Entrepreneurship Approach to Jewish Education.
Dr. Raviv Schwartz
Dr. Raviv Schwartz has been teaching in the MA Program in Nonprofit Management and Leadership at Hebrew University in Jerusalem, since its inception some 14 years ago. In addition to that, he is an English teacher at the Branco Weiss High School in the town of Or Yehuda catering to youth at risk. He also teaches conversational English to high schoolers at the Bialik Rogozin School in South Tel Aviv, many of whom are the children of asylum seekers and labor migrants.
Prof. Ron Shor
Academic Head of Program
Professor Ron Shor is a lecturer in the School of Social Work at Hebrew University of Jerusalem. Prof. Ron's research projects include health promotion programs for persons with severe mental illness, supported education programs for persons with mental illness in universities in Israel, and Culturally oriented supported education program for Ultra-Orthodox Jewish persons with mental illness. Prof. Ron has published many works in Social Work education and at risk education.
Dr. Yoel Siegel
Yoel Siegel holds a D. Phil in Community Development from the University of Sussex, England. He is co-founder of InterLoc Development, specializing in project manager and consulting for community and local economic development in a global context.
As a senior consultant to UN Habitat for over a decade his work focuses on promoting municipal mechanisms for revenue enhancement and leveraging urban planning for sustainable economic development. On behalf of the City of Jerusalem, he has provided professional leadership in initiating projects in cooperation with the European Union Horizon 2020 program. In the past, he served as the team leader in establishing the community based employment program for rural communities throughout Israel. In the field of sustainable growth, he played a key role in establishing the UNESCO recognized Ramat Menashe Biosphere in norther Israel. Innovative program design and development by local government, from early childhood development to municipal industrial park management has guided his work in Africa, South America, the Middle East, and the Pacific.
At Hebrew University, he teaches community development, strategic thinking, and social innovation working with students from around the world.  At Bezalel, he co-teaches a course on Innovations (social and cultural) in Urban Design
Dr. Nancy Strichman
Dr. Nancy Strichman is an adjunct lecturer at Hebrew University's Glocal's International Development Program and at the Rothberg International School Nonprofit Leadership and Management Program. Her courses focus primarily on nonprofit management, and strategic and evaluation design. As an organizational consultant and evaluation specialist, Dr. Strichman emphasizes the use of participatory research methods and the practical application of planning and design principles in her courses. Over the years, Dr. Strichman's research has examined the efforts of social entrepreneurs and civil society actors, specifically on topics related to shared society NGOs and gender equality in Israel. Her work has appeared in journals such as Nonprofit and Voluntary Sector Quarterly, Voluntas, and the New England Journal of Public Policy, and her blog on Times of Israel currently features the work of local nonprofits from around the country. She received her Ph.D. from the University of Pittsburgh and a Masters in Public Policy from Columbia University.
Hebrew University Quick Facts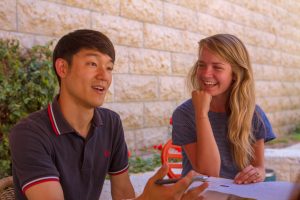 We offer courses and programs in a variety of fields, with a focus on social and political sciences, Israel and the Middle East, languages, religion, fine and performing arts, business and legal studies, and STEM.
Live on-campus with international and Israeli students – including a staff of Israeli students who help you navigate life in Jerusalem. This vibrant city will be your second classroom, full of trips and tours.
Apply online to begin your adventure in Jerusalem at the highest-ranked university in Israel.