Dr. Menahem Blondheim 
Academic head of the program
Menahem Blondheim serves as the academic head of the Israel Studies degree program at RIS. He received his BA from the Hebrew University, MA and PhD from Harvard University, and is the Newhouse Professor of Communication at HU's department of communication and its department of history. Widely published, he was a visiting professor in leading universities in the US and Europe.
Dr. Michal Assa
Dr. Michal Assa-Inbar is a lecturer at the Hebrew University and Ono Academic college. In the past several years she is teaching a course on the Anthropology and Sociology of Israeli Society at the division of advanced studies in Rothberg International School. Michal has conducted an ethnographic field work in an international school in the south of China and her proficiency is in the anthropological nature of multicultural encounters in a global world. Her early dissertation was engaged with culture as well and included interviews of foreign students at Rothberg School as a mean to decipher their cultural gaze at the Israeli-local academic culture. Michal is currently teaching courses in Sociology and Gender as well as course on multicultural in Israeli society, at the department of Sociology and Anthropology in the Hebrew university. 
Dr. Simon Epstein
Simon Epstein was born in 1947 in Paris, France. He settled in Jerusalem in 1974 and worked as an economist for the Israeli Ministry of Finance. Since the 1980's, he teaches at the Hebrew University in Jerusalem. He has published various books on antisemitism and racism, as well as on the Israeli political life. 
Dr. Alexandra Herfroy-Mischler
Alexandra Herfroy-Mischler (Ph.D) is an Associate Researcher at the Harry S. Truman Institute for the Advancement of Peace and the French CNRS (CRFJ) in Jerusalem. She lectures at the Rothberg International School at the Hebrew University as well as in the Journalism and Communication Department. She completed her Ph.D at the Department of Media Studies, Université de la Sorbonne Nouvelle, (Paris 3), France. Her research focuses on Journalism Practices and Political Communication with an emphasis on transitional justice/ conflict resolution, intelligence and counter-terrorism. Her research has been published in Media, War & Conflict Journal (2015), Journalism: Theory, Practice & Criticism (2016; 2018), Studies in Conflict and Terrorism (2017), Visual Communication (2019), and Journalism Studies (2020).
Dr. Gillad Rosen
Gillad Rosen, PhD, is an Associate Professor in the Department of Geography and the Director of the Institute of Urban and Regional Studies at the Hebrew University of Jerusalem. His work explores divided cities, housing policy, governance, urban renewal, and energy policy. He is the coauthor of Jerusalem – The Spatial Politics of a Divided Metropolis (2015) published by Polity Press.
Dr. Tanya Sermer
Tanya Sermer is adjunct faculty at the Rothberg International School, in the graduate, undergraduate, and Mechina programs, and in the Unit for English as a Foreign Language. She received her Ph.D. in musicology and ethnomusicology at the Eastman School of Music in Rochester, NY. She was awarded a dissertation research fellowship from the Social Science Research Council and post-doctoral fellowships from the Israel Institute and Lady Davis Fellowship Trust, all of which were carried out at the Hebrew University of Jerusalem. Tanya also works as artistic producer of the Jerusalem Oratorio Choir and as researcher at the Jewish Music Research Center. Tanya's academic work has been published in Women and Music: A Journal of Gender and Culture, and in books published by Ashgate and the University of Haifa. Her research focuses on music of Israel and the Arab Middle East, as well as Jewish and Islamic music and chant. In particular, she investigates the politics of music and sound in the public sphere, including the role of music in nation-building, protest, conflict, gender politics, and the production of space.
Hebrew University Quick Facts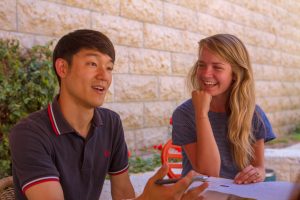 We offer courses and programs in a variety of fields, with a focus on social and political sciences, Israel and the Middle East, languages, religion, fine and performing arts, business and legal studies, and STEM.
Live on-campus with international and Israeli students – including a staff of Israeli students who help you navigate life in Jerusalem. This vibrant city will be your second classroom, full of trips and tours.
Apply online to begin your adventure in Jerusalem at the highest-ranked university in Israel.