Dr. Michael Ebstein
Academic head of the Program
Received his PhD at the Hebrew University in 2012. In his research, he focuses on classical Islamic mysticism, with particular attention to medieval Andalusian mysticism as well as the links between the Shi'ite tradition and Sunni mysticism.
Dr. Or Amir
Postdoctoral associate, Hebrew University of Jerusalem. Participating in the ISF project, "Studies on the History of Late Medieval Rural Palestine: The Coastal Region and the Judean Lowlands under Ayyubid and Mamluk Rule (1187-1516 CE)."
Selector, Islam and Middle East collection; editing the catalogue of Arabic, Persian and Turkish manuscripts, The National Library of Israel.
Ph.D. at the Department of Islamic and Middle Eastern Studies, The Hebrew University of Jerusalem. Supervisors: Prof. Reuven Amitai and Prof. Daniella Talmon-Heller. Dissertation title: "Mamluk Emirs and Sufi Shaykh: A Study in the Relations between Rulers and Holy Men" (approved: June 2020).
Prof. Reuven Amitai
Reuven Amitai is Eliyahu Elath Professor for the History of the Muslim Peoples at the Dept. of Islamic and Middle Eastern Studies, and a former Dean of the Faculty of Humanities. Prof. Amitai specializes in the history of the pre-modern Islamic world and the adjacent areas. Most of his publications have centered on the Mamluk Sultanate of Egypt and Syria, the Mongol Ilkhanate of Iran and the surrounding countries, and the history of medieval Palestine. From 2010 to 2014, Reuven Amitai was Dean of the Faculty of Humanities at the Hebrew University. From 2014 to 2016 he was a senior fellow at the University of Bonn, at the "Annemarie Schimmel Kolleg: History and Society during the Mamluk Era (1250-1517)".
He is currently the chairperson of the Library Authority at the Hebrew University. His recent publications include Holy War and Rapprochement: Studies in the Relations between the Mamluk Sultanate and the Mongol Ilkhanate (1260-1335) (Brepols, 2013); co-edited with Michal Biran: Nomads as Agents of Cultural Change: The Mongols and Their Eurasian Predecessors (University of Hawaii Press, 2015); and co-edited with Christoph Cluse: Slavery and the Slave Trade in the Eastern Mediterranean, 11th to 15th Centuries, forthcoming at Brepols. 
Dr. Nitzan Amitai-Preiss
I am a lecturer and scholar of Islamic Archaeology. I teach about Palestine and particularly about Jerusalem during the Islamic periods, between the 7th and 20th centuries C.E. My research focuses on finds unearthed during excavations, some of them excavations conducted in Jerusalem and its environs.
Ms. Sagit Butbul  
Holds a BA in Arabic Language and Literature and Middle Eastern Studies (1995) and an MA magna cum laude (2002) in Arabic Language and Literature, all from the Hebrew University of Jerusalem. Currently writing her PhD theses under the supervision of Prof. Simon Hopkins, under whose supervision she also wrote her MA theses.
Both theses deal with Judaeo-Arabic in general and in Judaeo-Arabic Biblical translations and commentary in particular.
Butbul's research fields are Arabic grammar, lexicology and philology, Classical, Modern and Colloquial Arabic linguistics, as well as Middle Arabic and especially Judaeo-Arabic, including grammar, lexicology and literature – mainly early translations, glossaries and commentaries, particularly those of Karaite origin. These research fields also include knowledge of reading and editing mediaeval manuscripts.
Dr. Tsameret Daphni-Levy
Tsameret has a PhD in history from Tel Aviv University, where she wrote her dissertation on society and politics in the Ottoman Empire in the 18th century, focusing on Diyarbakir (in the southeastern part of modern Turkey). While researching her dissertation, she lived in Istanbul for various periods and received a scholarship from KOC University, Istanbul, where she was a research fellow in 2008 and 2009 in the Research Center for Anatolian Civilizations (RCAC).
Dr. Tsameret Levy-Daphny is a lecturer at the Department of Middle Eastern and Islamic Studies. Previously the director of the Forum for Contemporary Turkish Studies at the Van Leer Institute, Levy-Daphny is the author of numerous academic and popular articles on Turkish culture and politics as well as a frequent commentator in the Israeli and international press. She has taught courses on modern Turkey and the Middle East at Ben-Gurion University of the Negev, the IDC Herzliya, and the Open University, among others. 
Dr. Rachel Hasson
I am a mother of two wonderful children and a Genizah researcher, living in Modi'in, Israel. From 2018 I am a teaching fellow in Ben Gurion University of the Negev and in the Hebrew University, teaching Arabic, Judaeo-Arabic language, literature and culture, Islam, history of the Jews in Arab lands. The courses are based on materials from the Genizah. My research areas are: Genizah, linguistic characteristics of Judaeo-Arabic, medieval Arabic library, popular literature in Middle Ages, Arabian Nights, the Jews in Arab lands.
Dr. Areen Hawari  
Dr. Areen Hawari holds A PhD in Gender Studies from Ben-Gurion University. Her research focuses on the activism of the Palestinian women: between feminism, religion and the state. She is the director of the "Gender Studies Program" in Mada al Carmel- Arab Center for Applied Social Research in Haifa. She is also teaching course titled "Feminism in Arab and global context" in the faculty of education in Oranim College.
Dr. Abigail Jacobson
Senior Lecturer in the Dept. of Islamic and Middle Eastern Studies
Dr. Abigail Jacobson is Associate Professor in the Dept. of Islamic and Middle Eastern Studies. She's an historian working on the social and urban history of late Ottoman and Mandatory Palestine and the Eastern Mediterranean. Her main research interest is the history of ethnically and nationally mixed spaces and communities, especially during times of war and conflict. Her first book is entitled From Empire to Empire: Jerusalem between Ottoman and British Rule (Syracuse University Press, 2011). Her second book, Oriental Neighbors: Middle Eastern Jews and Arabs in Mandatory Palestine (Brandeis/New England University Press, 2016), is co-authored with Dr. Moshe Naor.
Dr. Jacobson completed her PhD at the Department of History at the University of Chicago. Before joining the Hebrew University she was the Academic Director of the Borders and Sovereignty theme (previously The Mediterranean Neighbors Unit) at the Van Leer Jerusalem Institute. Dr. Jacobson is the chief editor of the Journal of Levantine Studies (JLS) published at VLJI. She has been a junior research fellow at the Crown Center for Middle East Studies at Brandeis University; a lecturer at the Department of History at MIT; a visiting lecturer at the Elie Wiesel Center for Judaic Studies at Boston University; and a lecturer at the International School at the Interdisciplinary Center in Herzliya (IDC).
Ms. Ayelet Levy
Ayelet Levi holds an MA in Middle Eastern and African studies from Tel Aviv University. She is an analyst for Middle Eastern affairs at the Israeli Ministry of Foreign Affairs and a guest writer in the periodicals of The Moshe Dayan Center for Middle Eastern and African Studies (MDC) – "Ifriqiya" and "Middle East Crossroads".
Ayelet's final paper for MA focused on Civil Society in North Africa. Her Ph.D. dissertation will focus on culture and politics in Morocco.
Her research in The Forum for Regional Thinking at Van Leer Jerusalem Institute focuses on The Maghreb Countries, primarily Morocco, Tunisia and Algeria, with special focus on social and cultural issues (e.g. Gender, Language, Youth or patterns of protest). 
Dr. Nicole Khayat 
Dr. Nicole Khayat is a historian of the modern Middle East. She is a member of the organizing committee of the Women Historians' Forum of the 19th and 20th centuries.
Dr. Khayat completed her doctoral dissertation, Historiography and Translation during the Arabic Nahḍa: European History in Arabic, at the University of Haifa in 2017. She is a teaching fellow at the Hebrew University, where she gives a course on the Arab Nahda in the 19th century in the Rothberg International School's department of Graduate Programs. She created an archive based on photographs of Palestinian life in Haifa prior to 1948, and co-organized an exhibition at the Haifa City Museum which presented portions of the archives. Her areas of interest include intellectual and cultural history of the Arabic-speaking world, and the modern Arab theater. Currently, her research focuses on physicians and medicine in the Arab provinces of the Ottoman Empire in the 19th century as part of a post-doctorate fellowship at the Hebrew University project "A Regional History of Medicine in the Middle East." 
Dr. Menahem Merhavy
Dr. Menahem Merhavy is a research fellow at the Harry S. Truman Institute for the Advancement of Peace, The Hebrew University of Jerusalem. Menahem earned his PhD from Tel Aviv University in Middle Eastern Studies in 2012. Formerly a researcher at the Leonard Davis Institute for International Relations at Hebrew University, and a Fulbright Postdoctoral Fellow at The University of Texas at Austin, Dr. Merhavy teaches at Hebrew University's Rothberg International School and Bar-Ilan University. His area of expertise includes radical movements in the Middle East, the Islamic Republic of Iran and the Arab-Israeli conflict. His book "National Symbols in Modern Iran" came out in 2019 at Syracuse University Press.
Dr. Arik Sadan 
Prof. Arik Sadan holds a BA in Linguistics and Arabic Language and Literature (2001) and an MA (2004) and PhD (2010) in Arabic Language and Literature, all from the Hebrew University of Jerusalem. He wrote both his MA and PhD theses under the supervision of Prof. Aryeh Levin, receiver of the Israel Prize for Linguistics (2010). Both theses deal with Arabic grammatical thought in general and the verbal system of Classical Arabic in particular. Having submitted his PhD thesis, Sadan traveled to Paris and Jena, Université Paris 7 and Friedrich-Schiller-Universität respectively, where he spent two years of post-doctoral research. His post-doctoral research project focuses on editing and analyzing an ancient treatise in the field of Arabic grammar which deals not only with grammar and syntax but also with Rhetoric and Logic, based on eleven different manuscripts. In 2012 Sadan published the scientific edition of this work with Harrassowitz Verlag, as well as a revised English version of his PhD thesis with Brill.
Prof. Sadan's research fields are Arabic grammatical thought, Arab grammarians, Classical, Modern and Colloquial Arabic linguistics and manuscripts in Arabic grammar and other fields. In the framework of the DIP project Sadan is working on preparing a scientific edition on the Judeo-Arabic translation and commentary of the Karaite Yefet Ben Eli to the book of Job, an edition that will be based on a few dozens manuscripts. This work will be published by Brill in two volumes: one for the scientific edition, and one for its translation into English. In addition, Prof. Sadan deals with various aspects related to the linguistic characteristics of Karaite manuscripts in Judeo-Arabic and with the comparison between these and manuscripts of other groups, for example Christian groups.
Prof. Adam Silverstein
Adam Silverstein is a Professor in the Dept. of Islamic and Middle Eastern Studies Max Schloessinger Chair in Islamic Studies. He specializes in the history of the Middle East, from Late Antiquity until the Middle Ages. Most of his research is comparative, focusing on Islamic cultures within broad historical contexts. Prof. Silverstein studied at the University of Cambridge (Ph.D. 2002). Following a British Academy post-doctoral fellowship (2002-2005), he was a lecturer at the University of Oxford (2005-2010), and as Reader in Abrahamic Religions at King's College London, until his arrival in Israel in 2012. Prof. Silverstein joined the department of Islamic and Middle Eastern Studies in 2021.
Dr. Hila Zemer
Hila Zemer earned her PhD from the Hebrew University. Her research deals with different aspects of the grammar of Arabic dialects, with relations to the development of the Arabic language. Her main fields of interest are Arabic grammar, Arabic dialectology, and Arabic historical linguistics. Dr. Zemer has been teaching at the Rothberg International School since 2005, and in the Graduate Department since 2010. 
Hebrew University Quick Facts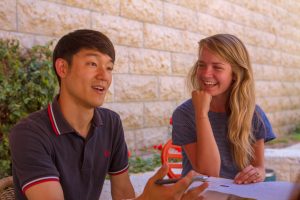 We offer courses and programs in a variety of fields, with a focus on social and political sciences, Israel and the Middle East, languages, religion, fine and performing arts, business and legal studies, and STEM.
Live on-campus with international and Israeli students – including a staff of Israeli students who help you navigate life in Jerusalem. This vibrant city will be your second classroom, full of trips and tours.
Apply online to begin your adventure in Jerusalem at the highest-ranked university in Israel.