Dale Golden
The summer before my sophomore year of college, I was unhappy at my American university but wasn't sure transferring was the answer. During this time, my aunt was passing away. The last time I visited her, I felt a sudden and strong urge to go to Israel. My aunt was a huge lover of the country, so in a spiritual and emotional way, it was her final gift to me. This emotional foundation set up my experience at Hebrew University to be life-changing.
I went to Hebrew U looking for experiences of what I thought the undergraduate experience should be and was not disappointed. During my semester at Hebrew U, I earned the best grades thus far in my collegiate career – a testament to how truly happy and invigorated I felt. I created solid relationships with my professors and had the amazing opportunity of interning in a psychology lab and authored a research paper that I still include on my resume.
Every week I dedicated time to volunteer at a day center for individuals with Alzheimer's and dementia raised awareness on campus to promote spaying and neutering the cats (I even adopted two kittens from Israel, Toby, a three-legged cat and a tuxedo cat, Jesse). I met incredible people and made some of my best friends at Hebrew U.
Having my closest friends surprise me with a birthday party was a fabulous end to my semester abroad and a memory I truly hold dear.
An incredible experience I had while at Hebrew U was taking a weekend trip to Vienna, Austria. My grandfather's family was from there and most were killed in the Holocaust. Before the trip, with the help of one of my professors, I went to Yad Vashem and looked up my family members and their old addresses in Vienna so I could visit their homes. This was an incredibly moving experience that would not have been possible if it weren't for my time in Israel.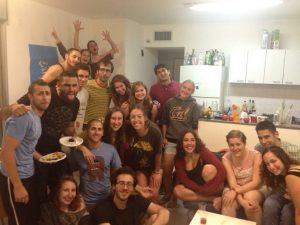 Being at Hebrew University was truly unforgettable. Overall, my experience taught me to listen to my instincts, discover what I really wanted, and become confident in going for what would make me happy. I made incredibly close friends that I still keep in touch with, helped Jerusalem through volunteering, surpassed my academic goals and connected with my Israeli family members. All of those memories live on. Because of Hebrew U, I decided to transfer universities in the U.S., which led to the end of my collegiate career being amazing.
To this day, my experiences at Hebrew U remind me to trust myself and follow the path that is right for me.