48159    I    Corona: The "And" 
Lecture and Exercise
The Covid-19 ("Corona") pandemic does not stand on its own. It had – and still has – a huge impact on our everyday life. The pandemic affected both the perception and behaviors on the personal level as well as many aspects of our society in a variety of generic fields, such as: Law and regulation, culture and sports, religion, politics, science. In each of the study units, we will touch on one of these areas and how it was affected by the Corona. Campaign: In the French language, the word Campaign means war, battle, battlefield, struggle. In marketing, both commercial and social, the word 'campaign' refers to advertising campaign or propaganda campaign. Our claim: In each of the areas discussed above, there was a war, a campaign – We address them in the course through two perspective: A. What the Public Health System has stated and done to fight the Corona in a particular field and/or sector. B. How each field and/or sector related to its relevant Public Health restrictions and what were its reactions and practical manifestations. In each session this struggle will be discussed in terms of conflicts, power relations, achievements and outcomes.
Hebrew University Quick Facts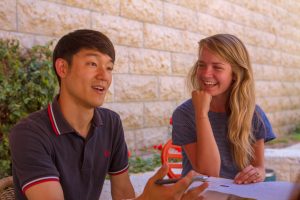 We offer courses and programs in a variety of fields, with a focus on social and political sciences, Israel and the Middle East, languages, religion, fine and performing arts, business and legal studies, and STEM.
Live on-campus with international and Israeli students – including a staff of Israeli students who help you navigate life in Jerusalem. This vibrant city will be your second classroom, full of trips and tours.
Apply online to begin your adventure in Jerusalem at the highest-ranked university in Israel.