Successful completion of the Preparatory Program (Mechina) in the academic year will allow for direct admission to HebrewU without the Psychometric Exam. Admission will be based solely on Preparatory Program (Mechina) grades. In order to be eligible for direct admission for HebrewU programs, students must successfully complete the required courses and maintain the minimum grades necessary for the program of choice. See below for HebrewU program grade requirements. 
Hebrew University Quick Facts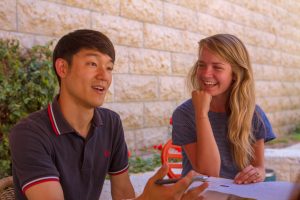 We offer courses and programs in a variety of fields, with a focus on social and political sciences, Israel and the Middle East, languages, religion, fine and performing arts, business and legal studies, and STEM.
Live on-campus with international and Israeli students – including a staff of Israeli students who help you navigate life in Jerusalem. This vibrant city will be your second classroom, full of trips and tours.
Apply online to begin your adventure in Jerusalem at the highest-ranked university in Israel.