English Placement Test
English placement exam is required for all students except high school graduates from English-speaking countries and students who receive a grade of 134 on the English sub-section of the NITE Psychometric Entrance Test. 
If you have yet to take the English Placement Exam, please sign into The English Placement Test please sign in through this link.
Students who have done one of the following tests: Psychometric, Amir, Amiram, TOEFL, IELTS, SAT, or ACT your English placement will be determined based on your grade as well. Please upload the relevant document to your personal information.
Students who haven't done one of the above, will need to take an Amiram test during the Summer.
Registration will be automatically unless you send in your grades from one of the tests mentioned above. The cost of the Amiram test is 300 Nis. Payment will be via credit card once you have arrived.
Please note, there is an option to take the Amiram test throughout the year, you can find more information about the test here.
Hebrew University Quick Facts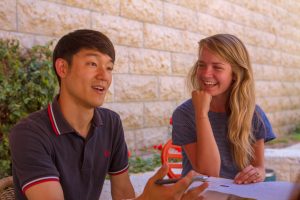 We offer courses and programs in a variety of fields, with a focus on social and political sciences, Israel and the Middle East, languages, religion, fine and performing arts, business and legal studies, and STEM.
Live on-campus with international and Israeli students – including a staff of Israeli students who help you navigate life in Jerusalem. This vibrant city will be your second classroom, full of trips and tours.
Apply online to begin your adventure in Jerusalem at the highest-ranked university in Israel.