الطالب العزيز،
 تهانينا لقبولك في برنامج السنة التحضيرية- صدارة – كيدما، في كلية الطلبة الأجانب للعام الدراسي
2024-2023. فيما يلي معلومات وتفصيل للأقساط التعليمية، طرق الدفع المالي وإجراءات الانسحاب من الدراسة. يرجى الاطلاع عليها والعمل حسبها.


القسط التعليمي:
تفصيل الأقساط الخاصة ببرنامج صدارة- كيدما:
رسوم التسجيل 430 شيكل (غير مستردة).
القسط التعليمي للعام الدراسي 15,377 شيكل.
قسط المعهد الصيفي: 4,732 شيكل.
رسوم سنوية لفعاليات لامنهجية وكتب دراسية: 570 شيكل.


الدفع المسبق:
طلاب مستحقي المساعدة المالية، عليهم تقديم مستندات وطلب المساعدة المالية لمستشاري البرنامج. يرجى تسليم مستندات المساعدة المالية خلال أسبوعين من الحصول على مكتوب القبول للبرنامج.
عند قبولك للبرنامج سيطلب منك دفع مبلغ 2,653 شيكل، الذي يتألف مما يلي:
قسط السنة الدراسية: 603 شيكل.
قسط المعهد الصيفي للغة العبرية: 1,480 شيكل.
رسوم سنوية لفعاليات لامنهجية وكتب دراسية: 570 شيكل.
استكمال دفع القسط الخاص بالمعهد الصيفي والعام الدراسي:
في حال تقدمتم بطلب للمساعدة المالية وتقرر أنك غير مستحقين لها، سيكون عليكم استكمال دفع القسط التعليمي المحدد للسنة الدراسية وللمعهد الصيفي للغة العبرية.
المبالغ المطلوب استكمال دفعها: للمعهد الصيفي: 3,252 شيكل، للسنة الدراسية: 14,774 شيكل.
إجراءات الانسحاب والغاء انتساب للبرنامج:
الانسحاب من البرنامج يلزم الطالب بتقديم طلب انسحاب رسمي لمستشاري البرنامج. يتم التبليغ عن الانسحاب وفحص موضوع الاسترجاع المالي، فقط بعد تقديم المستندات الخاصة بالمساعدة المالية. عدم الحضور للحصص لن يعتبر انسحاب بحال لم يتم إعلام المستشارين بذلك رسميا. قبل أن تتم عملية الاسترجاع المالي، من مسؤوليتك تسليم كافة المستندات المرفقة مع طلب المساعدة المالية. في حال قررت الانسحاب قبل تسليم هذه المستندات، سيتم احتساب القسط التعليمي للطالب، كغير مستحق للمساعدة المالية (كما هو ومفصل في قائمة رقم 1)
استرجاع مالي عن المعهد الصيفي
قائمة رقم 1:
| | | |
| --- | --- | --- |
| تاريخ الانسحاب | المبلغ الذي يتم جبايته – مستحقي المساعدة المالية | المبلغ الذي يتم جبايته – غير مستحقين المساعدة المالية |
| قبل افتتاح الدراسة | 800 شيكل | 800 شيكل |
| انسحاب خلال أول 3 أيام من بداية المعهد الصيفي (25% من القسط) | 370 شيكل | 1,191 شيكل |
| انسحاب بين اليوم الرابع والسادس من بداية المعهد الصيفي (50% من القسط) | 740 شيكل | 2.381 شيكل |
| بعد اليوم السادس من بداية المعهد الصيفي (100% من القسط) | 1.480 شيكل | 4,762 شيكل |
استرجاع مالي عن القسط الدراسي للسنة التحضيرية
المعلومات المفصلة في القائمة أدناه تختص فقط القسط التعليمي للعام الدراسي (بدون المعهد الصيفي). الرسوم الخاصة بالفعاليات اللامنهجية والكتب الدراسية- 570 شيكل لن يتم استردادها في حال بدأ الطالب الدراسة في السنة الأكاديمية (والتي تبدأ في 10/15)
قائمة رقم 2:
| | | |
| --- | --- | --- |
| تاريخ الانسحاب | المبلغ الذي يتم جبايته- مستحقي المساعدة المالية | المبلغ الذي يتم جبايته – غير مستحقين المساعدة المالية |
| قبل افتتاح السنة الدراسية (بعد إنهاء المعهد الصيفي) | 800 شيكل | 800 شيكل |
| بين 2023/10/16 وللغاية 2023/11/14 | 0 شيكل | 3,844 شيكل |
| بين 2023/11/15 ولغاية 2024/01/21 | 0 شيكل | 9,226 شيكل |
| بين 2024/01/22 ولغاية 2024/02/18 | 0 شيكل | 9,995 شيكل |
| بعد 2024/01/19 | 0 شيكل | 15,377 شيكل |
آلية دفع القسط التعليمي:
بطاقة اعتماد: يمكن الدفع بواسطة بطاقة اعتماد من خلال الحساب الشخصي للطالب. عند الدفع يتم جباية فائدة بنسبة 2.4% غير مستردة.
وصل دفع بالبريد: يمكن الحصول عليه من المستشارين (غرف 422، 421، 418، 401) أو لدى مكاتب قسم المحاسبة (غرف 502، 501).
حوالة بنكية: 
فيما يلي تفاصيل حساب البنك باسم الطلبة الأجانب:
 

בנק דיסקונט # 11

סניף בית הכרם , מס' 069

מס' חשבון 106279

שם החשבון: האוניברסיטה העברית בירושלים
أثناء الدفع بواسطة وصل بريدي أو حوالة بنكية، عليكم التأكد من كتابة أسم الطالب ورقم هويته في الأماكن المخصصة لهذه التفاصيل. بعد تنفيذ الحوالة البنكية، يجب إرسال تأكيد الدفع بالإيميل للمستشارين في البرنامج.
مستشاري السنة التحضيرية:
أسيل خطاب:    rispreparabic@savion.huji.ac.il
أمجد عزام:   adprep-arabic@savion.huji.ac.il 
خالد عويضة:    kidma@savion.huji.ac.il
رحيق دقة:   sadarah@savion.huji.ac.il
فاتن فهدان:   fatinf@savion.huji.ac.il
لنا عمري:  adprepeastj@savion.huji.ac.il
نتمنى لكم النجاح،
قسم المحاسبة
كلية الطلبة الأجانب
الجامعة العبرية
تحتفظ إدارة كلية روتبرغ للطلاب الأجانب بالحق في تغيير قيمة المستحقات المالية في أي وقت.
القسط المالي لبرنامج السنة التحضيرية تنطبق فقط على المقيمين في إسرائيل ومن يحمل بطاقة الهوية الإسرائيلية.
يُطلب من الطلاب الذين يلتحقون بأكثر من برنامج واحد (مثلا: فصل الصيف Ulpan وفصل الخريف) تسديد جميع التزاماتهم المالية بالموعد المحدد وقبل بداية الفصل الدراسي.
 رسوم التسجيل
 360 شيكل (لكل عام دراسي ، غير مستردة)
ملاحظات عامة
أنت مسؤول عن انضمامك او كونك عضو في صندوق مرضى- تأمين صحي. مطلوب منك ارفاق تقرير طبي لتأكيد حصولك على رعاية صحية في البلاد.
امكانية الحصول على مساعدة مالية من قبل وزارة التربية الإسرائيلية متاحة لطلاب حملة بطاقة الهوية الإسرائيلية وذوي مستوى اقتصادي- اجتماعي منخفض.
متطلبات البرنامج ما قبل بداية الدراسة
على كل طالب التقدم لامتحان تصنيف لتحديد المستوى في اللغة العبرية قبل المعهد الصيفي والانجليزية.
تكلفة المعهد الصيفي (ulpan) 4560 شيكل لطلاب برنامج السنة التحضيرية لطلاب شرقي القدس.
تكلفة المعهد الصيفي (ulpan) 7770 شيقل لطلاب برنامج السنة التحضيرية للطلاب الأجانب (מכינה).
يتوجب على الطالب الذي قام بتسليم بملف المساعدة المالية مع كامل المستندات المطلوبة، دفع القسط الأولي بقيمة 2180 شيكل.
السنة الدراسية:
للطلاب حاملي بطاقة الهوية الإسرائيلية,  تكاليف القسط التعليمي للبرنامج هي 14،560 شيكل.
* القسط الأول 2180 شيكل، للطلاب الذين يستحقون  المنحة الدراسية التي يتم منحها من قبل مجلس التعليم العالي، يعد قسط شخصي ومشاركة في التكاليف العامة للدراسة.
* في حال عدم استيفاء الطالب لشروط المنحة وعدم حصوله على تغطية لبقية القسط الدراسي، تقع على الطالب مسؤولية سداد كامل القسط الدراسي.
استرجاع القسط الدراسي
الطالب الذي يقرر الانسحاب من البرنامج، عليه تعبئة استمارة انسحاب بأقرب وقت لاتخاذه القرار، على أن يتم قبولها والموافقة على استلامها من قبل قسم المالية.
الطلاب المشاركين في المعهد الصيفي للغة العبرية، والذين يرغبون بالانسحاب من الدراسة قبل بداية العام الدراسي (الفصل الدراسي الأول)، ولغاية 2021/10/9، سيتم اقتطاع مبلغ 700 شيقل من المبلغ الذي دفع مسبق (2180).
بعد هذا الموعد، لن يتم استرجاع أي من التكاليف التي دفعت.
بعد بدء السنة الدراسية, الطالب الذي يقرر توقيف دراسته والانسحاب من البرنامج، عليه دفع تكاليف القسط الدراسي بحسب مواعيد الانسحاب التالية:
| | | | | |
| --- | --- | --- | --- | --- |
| موعد الانسحاب | 10.10.2021 | 18.11.2021 | 14.01.2022 | 06.02.2022 |
| القسط المستحق دفعه | NIS 3,854 | NIS 9,072 | NIS 10,800 | NIS 14,560 |
Financial Information for Students from Eastern Jerusalem for the academic year 2021-22
RIS reserves the right to change fees at any time
These tuition costs for Mechina Program and Sadarah students apply only to Israeli citizens who are residents of Israel.
Students taking more than one program (i.e., Summer Ulpan and Autumn Semester) are required to meet all their financial obligations by the deadline of the first program they will attend.
Application fee
NIS 360 (per academic year; non-refundable)
General Notes
You are personally responsible for joining a health provider (kupat cholim)to ensure access to medical care.
Scholarships are available from the Ministry of Education for Israeli citizens at a low socioeconomic level.
Pre-Semester Program Requirements
You will take a placement exam to determine your placement in the language ulpanthe summer before the start of your program
| | |
| --- | --- |
| Summer Ulpan | NIS 7,770 |
| Sadarah Ulpan | NIS 4,560 ** |
Academic year
| | |
| --- | --- |
| Israeli Citizens (with an Israeli Identity Card) | NIS 14,560* |
* Scholarships received from the Council for Higher Education will be deducted from the NIS 14,560 tuition fee.
The down payment of 2,180ILS is the participation fee for students entitled for scholarships awarded by the Ministry of Education.
If the students are not eligible to receive the scholarship, they are responsible for completing the payment of the entire tuition amount.
Tuition Refunds
Withdrawal from the program for any reason is only possible by filling out the Notice of Withdrawal from. This form must be approved and signed by the department. Students who withdraw prior to the beginning of the academic year/semester are charged a NIS 700 withdrawal fee and for any points they may have utilized for OSL activities. Once the academic year begins, the withdrawal charges are:
| | | | | |
| --- | --- | --- | --- | --- |
| From: | October 10, 2021 | November 18, 2021 | January 14, 2022 | February 6, 2022 |
| Israeli Citizens | NIS 3,854 | NIS 9,072 | NIS 10,800 | NIS 14,560 |
Application
External Students apply through the Division of Hebrew Language Instruction. They must fulfill all course requirements, and may not be allowed to continue their studies if they fail a course. External students must apply for each semester separately. Places are reserved on the basis of availability.
Contact
Please contact us with any questions about Hebrew language study:
Email
Tel.: +972 2 588 2603, 588 2698, 588 2352, or 588 1363
Fax: +972 2 588 2363
Hebrew University Quick Facts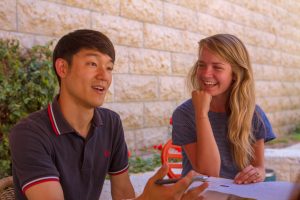 We offer courses and programs in a variety of fields, with a focus on social and political sciences, Israel and the Middle East, languages, religion, fine and performing arts, business and legal studies, and STEM.
Live on-campus with international and Israeli students – including a staff of Israeli students who help you navigate life in Jerusalem. This vibrant city will be your second classroom, full of trips and tours.
Apply online to begin your adventure in Jerusalem at the highest-ranked university in Israel.