Gil Kedar is a lecturer in statistics and psychology for the Mechina program at Hebrew University's Rothberg International School (RIS). He is also a pedagogical instructor at the Jerusalem-based non-profit Machshava Tova, which provides technology education for children, at-risk youth, elders, and people with disabilities. Kedar has a master's degree in social psychology and a bachelor's degree in behavioral sciences, psychology, sociology, and anthropology.
Making an Impact
For Kedar, a career that blends people and technology is a natural fit. "I'm good with psychology and education, with people. And I'm good with computers," he says. "It always interested me … how people relate to computers, how people work with computers." As a master's student, he explored that relationship in a thesis on binary alert systems, like fuel lights in cars. Kedar designed a simulation to explore how the reliability of alerts affected behavior – and found that even when the system was highly accurate, people often didn't trust it, and still invested time re-checking the results.
Today, he helps people understand and trust technology for a living, at HebrewU and at Machshava Tova. "There are a lot of people who look at computers as something that they're kind of afraid of," he says. "I really look at a computer as a tool; as something that I can look into and understand and utilize."
Kedar says during his master's studies, he considered a career in the tech industry, but ultimately decided to focus on education. "I thought about it and said, 'I could do that. I would be good at that; it would be good money. But that's not what I want to do with my life. That's not the impact I want to make.'"
In the Classroom
After earning his master's degree and teaching certificate, Kedar joined the team at Machshava Tova, where he helps prepare instructors to teach at-risk youth about computers. "My work at Machshava Tova is really great. It's really fulfilling," he says. Still, one thing was missing: "I work with instructors; I don't work with pupils, and I missed that. I really missed standing in front of the class, working directly with the students … What I was missing was the certain way people look when they understand something new … When a moment ago, they thought it looked really hard and complex, and perhaps they wouldn't understand it. And then, they do."
When the opportunity arose to teach in the Mechina program at RIS, Kedar jumped at the chance. "It was, 'Wow, this is really, really great,'" he says. "That really looked like a place that I want to be."
Kedar says his goal in the classroom is simple: getting students engaged. "I'm really not looking for just throwing what I know at them, but really eliciting what they know – and using that during class, even if it's a whole new subject."
To teach his psychology students about visual perspective, for example, he once had them take his place at the front of the room. "I saw the classroom, and there were a lot of things you could talk about [related to] perspective there, but they couldn't see that. So, we just switched," he says. "I took all the students and put them on stage. And I went to the back of the class and asked them, 'What do you see?' That's what I'm trying to promote – letting them share their point of view, and using that as something to build on."
Kedar says that includes gathering a lot of feedback from his students, especially when they're still learning Hebrew. "Asking them questions during class, and giving them homework that tells me whether they really 'got it' or not, then working with that," he says. "I want them to get everything; the deepest understanding." At first, he says, working in a large classroom was a challenge. "During class I can ask something, and I would get an answer from some of the students, but I wasn't sure what was happening with those at the back." Eventually, he says, he told them, "Those last two or three rows are off-limits! Come sit in the front."
Community Commitment
Kedar says at RIS, he is part of a special community. "I walk into class and I look at my students, and I really get that these people are given a great chance. Someone really wanted them to go to a university. And they are really, really committed to that."
And he says, he and the rest of the RIS staff share that dedication. "I see little things that we do at Rothberg and it really moves me. This school is full of people who are really committed to having those students ready for the university – and having a good experience."
Education
Teaching certificate in psychology, Tel Aviv University (2016)
Master's degree in social psychology, Ben-Gurion University of the Negev, (2014)
Bachelor's degree in behavioral sciences, psychology, sociology, and anthropology, Ben-Gurion University of the Negev (2011)
Learn more about preparatory programs at RIS
Our Strengths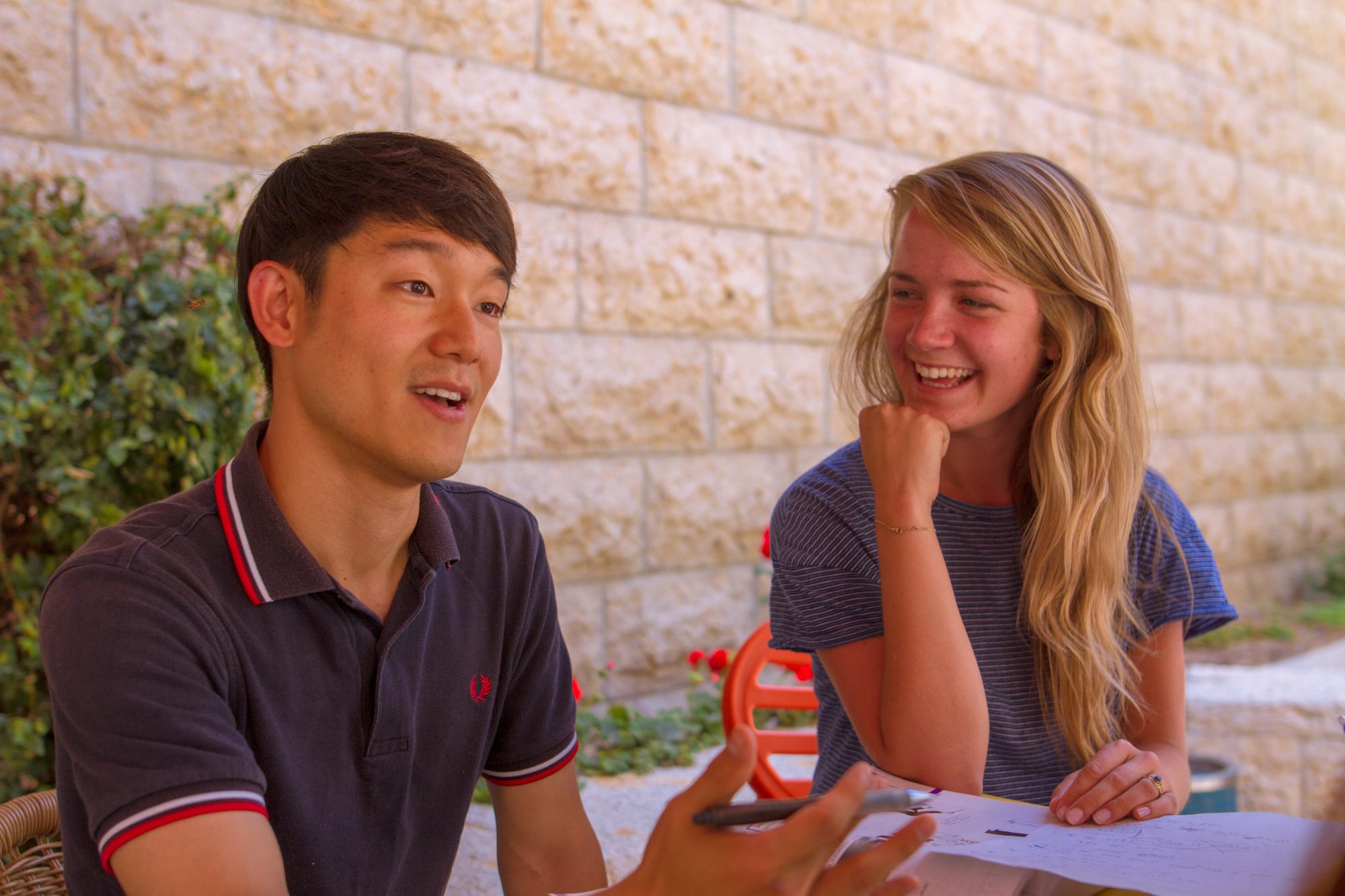 We offer courses and programs in a variety of fields, with a focus on social and political sciences, Israel and the Middle East, languages, religion, fine and performing arts, business and legal studies, and STEM.
The Real Jerusalem
Live on-campus with international and Israeli students – including a staff of Israeli students who help you navigate life in Jerusalem. This vibrant city will be your second classroom, full of trips and tours.
Apply Now
Apply online to begin your adventure in Jerusalem at the highest-ranked university in Israel.

Instagram