Overview
If you are a North American student with Jewish heritage, the Nativ College Leadership Program in Israel, affiliated with the United Synagogue of Conservative Judaism, allows you to earn college credits while exploring your path (Nativ) to becoming a Jewish adult.
Over the course of the autumn semester, you'll take intensive courses on Israel, Judaism, and the Hebrew language taught by renowned teachers at Hebrew University's Rothberg International School. Make friends with other international and Israeli students as you deepen your connection with Judaism and Jewish life. Learn more about the Nativ program.


Curriculum
During the first six weeks of the Nativ program, you'll take special courses that provide a foundation of knowledge about Israel and Judaism. During the regular autumn semester, you'll continue to take courses in Jewish, Israel, Middle East, and behavioral studies, and enroll in Modern Hebrew.
Hebrew University Quick Facts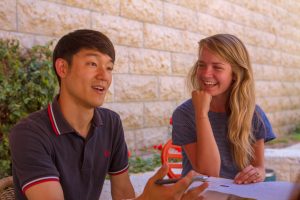 We offer courses and programs in a variety of fields, with a focus on social and political sciences, Israel and the Middle East, languages, religion, fine and performing arts, business and legal studies, and STEM.
Live on-campus with international and Israeli students – including a staff of Israeli students who help you navigate life in Jerusalem. This vibrant city will be your second classroom, full of trips and tours.
Apply online to begin your adventure in Jerusalem at the highest-ranked university in Israel.